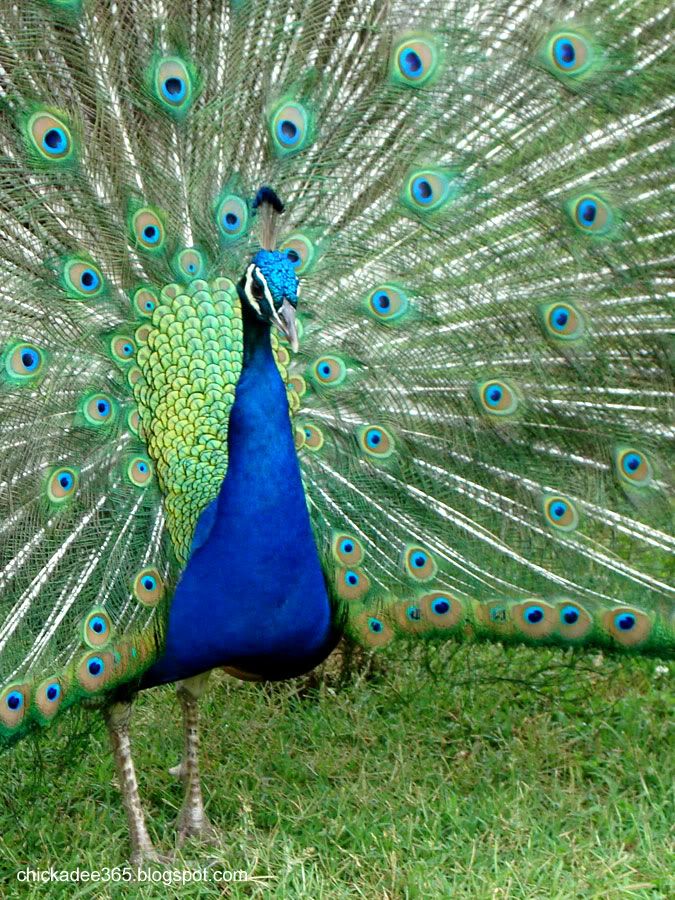 I was reading through Aidan's social studies workbook. There is a section called "Discovering Past and Present Times." Here's some of what it says: "Past Transportation: Walking, riding horses, or riding in a wagon. Present Transportation: Riding in cars, airplanes, trains, and space shuttles.
"Past Family Life: Handmade clothes, homemade games, and family vegetable gardens. Present Family Life: Store-bought clothes, electronic games, and microwave food."
I'm livin' in the past, man! Is it just me, or is this kind of... I don't know... for some reason it makes me shake my head.
Anyway, this guy was strutting his stuff at the farm today. It was like peacock paparazzi because there were so many people trying to take his picture. I got lucky and he put on a private show for me before there was anyone else there. And I only had my little P&S camera. Yes, I feel special.
I'm thankful I'm still living in the past a little bit. I still like to walk, give wagon rides (I know they don't mean the little red wagon, but hey, it's nostalgic), grow veggies, make clothes and games, make food on a stove, and visit the farm.