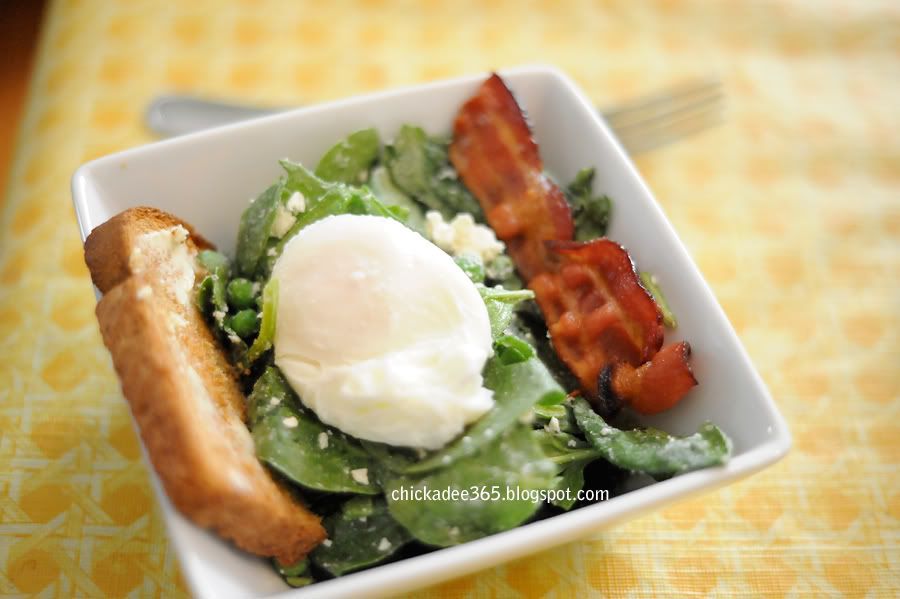 I couldn't find the recipe online. It's from Martha Stewart Living, April 2003. This recipe is definitely not heart healthy.
Warm Spring Salad with Poached Eggs
Serves 4
4 slices (4 oz) smoked bacon
4 this slices bread, cut into 2-inch cubes
(I just served it with toast instead of making the croutons)
4 teaspoons red wine vinegar
1 tablespoon fresh lemon juice
8 ounces baby spinach
3 ounces fresh young garden peas
(I used thawed frozen peas)
2 ounces feta cheese, crumbled
2 tablespoons chopped fresh chives
(I used green onions)
4 large eggs
1. Preheat oven to 375. Cook bacon in large skillet over medium heat until crisp.
(I broiled the bacon in the oven because that's how I always cooked my bacon)
Transfer bacon to a paper towel lined plate to drain. Set aside 1/4 cup rendered bacon fat,
(if you're not making your own croutons you can skip to step 3 now, but you will need the 1/4 cup bacon fat)
and leave the rest in the skillet.
2. Make croutons: toss bread cubes in
bacon fat remaining in skillet, coating evenly; season with salt and pepper. Arrange cubes in a single layer on a rimmed baking sheet. Bake until crisp, about 10 min. Set aside.
3. Make vinaigrette: in a small bowl, whisk together vinegar and lemon juice, season with salt and pepper. Whisk in reserved bacon fat until emulsified.
(or dump it all in a jar, put a lid on it, and give it to your 3-year old to "shake, shake, shake")
4. In a large bowl, combine spinach, peas, feta, croutons, and chives. Pour vinaigrette over spinach mixture, and toss to coast. Divide among serving plates.
5.
Poach the eggs
.
6. To serve, arrange a poached egg and one of the bacon slices on top of each salad. Season with salt and pepper. Serve immediately.