I forgot to mention yesterday that our lost suitcase was waiting in our hotel room when we returned from our tour. What a relief.
Early this morning we took a short flight from Quito to the coastal city of Guyaquil. Our travel clinic nurse back in VA recommended that we take meds so we didn't get headaches while we were in the high altitudes of Quito. One of the side effects is pins-and-needles in your extremities. It hadn't bothered me so far, but when we traveled down to sea level I really got it. My fingers and toes would feel all tingly the whole time were in the Galapagos.
It was neat seeing the volcanoes sticking out of the clouds. I couldn't help thinking of the soccer team whose plane crashed in the Andes.
We then flew 1500 miles out to the islands. The "airport" is on a small island called Baltra. It used to be a US airbase.
From Baltra we took a short ferry ride to Santa Cruz island. We were greeted by a blue-footed booby.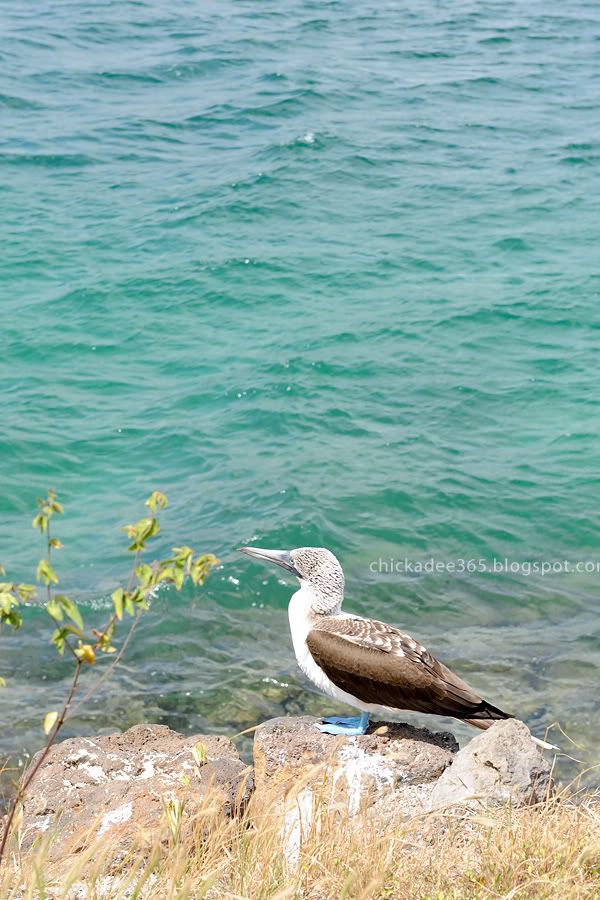 Once on Santa Cruz we took a bus clear to the south coast of the island to Puerto Ayora where we checked into our hotel, had lunch, and met our island guide. 95% of the Galapagos is in the national park. You have to pay $100 just to step on the islands and you cannot leave the towns unless you have a park guide with you. We walked with our guide to the Charles Darwin Research Station. There are murals of Charles Darwin everywhere you look. He's kind of a big deal here.